When:
April 2, 2022 @ 9:00 am – 5:00 pm
2022-04-02T09:00:00-07:00
2022-04-02T17:00:00-07:00
Where:
Mountain's Edge Park, Tortoise Pavilion
8101 W Mountains Edge Pkwy
Las Vegas
NV 89178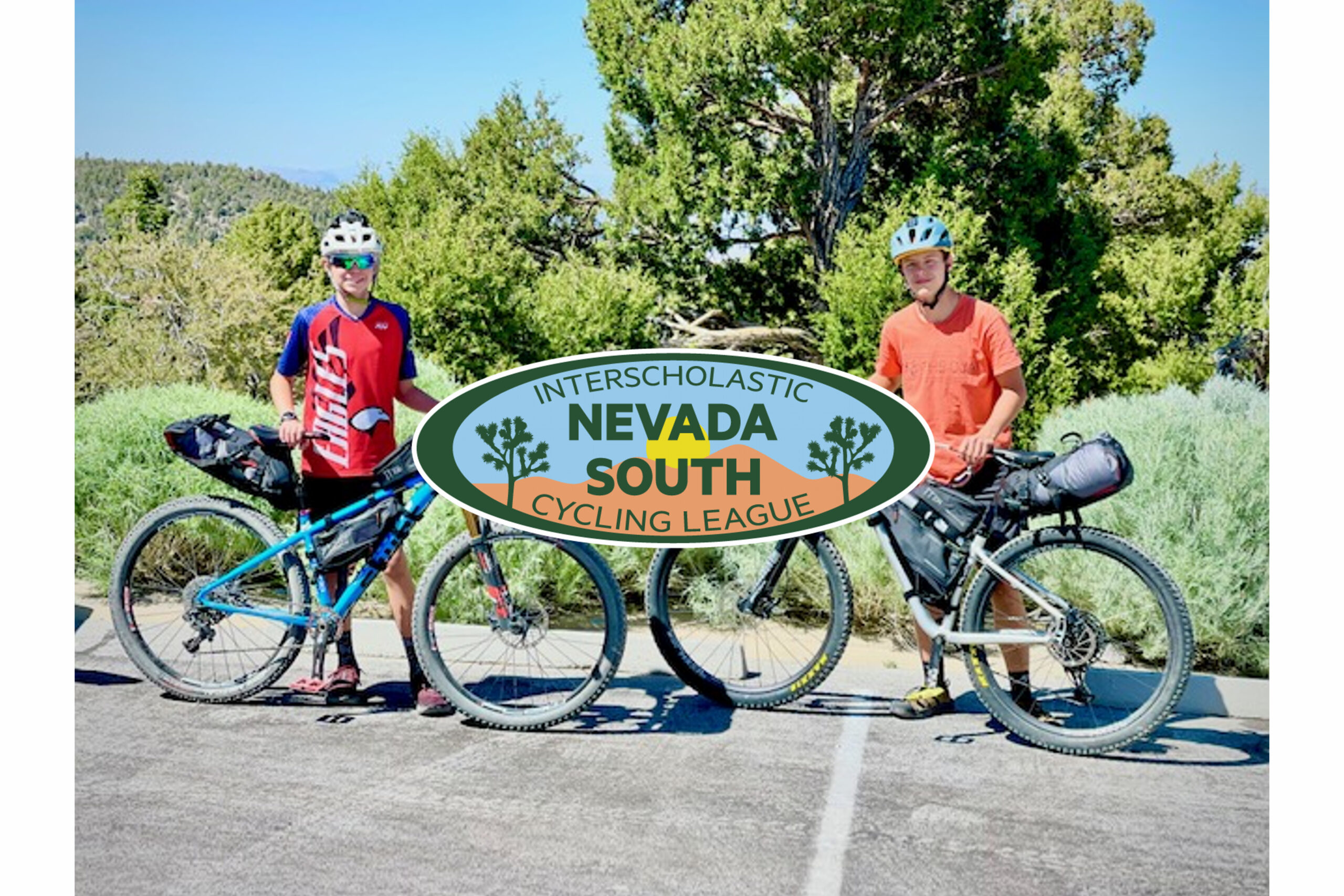 This will be a fun day of learning how to setup your bike with gear and packs (training packs provided by NSICL), participant must bring basic camping gear such as compact tents, sleeping bags to pack on their bikes.
Students and parents are welcome to attend this clinic to learn more about bikepacking and prepare for an overnight trip we have planned to ride from the ghost town of Rhyolite to Spicer Ranch on May 21st.
Backcountry Skills and Bikepacking Basics Day Clinic
Objective: Introductions and expectations
Activity: Riders will anonymously write on index card what their expected goals are from bike packing and then they will be read aloud by a coach
Activity: Riders will anonymously write on index card what their biggest fear or anxiety is from bike packing and then they will be read aloud by a coach – What is written on these cards will be addressed throughout the course day
Shelters
Objective: Students can set up a shelter that is taut, anchored, and protects occupants from wind and rain
Activity: Students will pair up – dismantle their tents and then set them back up
Sleep Systems
Objective: Coaches will demonstrate how to pack a sleeping bag and how to roll a ground pad
Activity: Students will pack their sleeping bag and ground pad
Self-care – Hydration
Objective: Examples of some self-care methods that are helpful – what does 3 liters of water look like?
Self-care – Nutrition
Objective: Examples of some self-care methods that are helpful – what does ~250 calories of food look like?
Backcountry Hygiene
Objective: Student-athletes can identify WHY hygiene is important, and students can maintain good hygiene in the backcountry.
Bike safety inspection
Objective: Inspect bikes
Activity: Fun obstacle course
Water filtration & purification
Objective: Discuss the differences in water treatment. What can make you sick?
Activity: Demonstration of different ways to treat water
Lunch
Objective: Cook, eat, clean up. How to use a camp cook system
Activity: Student-athletes will learn to use different methods of boiling water and perform such task to cook their lunch
What's in my pack?
Objective: An example pack that is prepared
Gear Selection
Objective: Student-athletes will identify the individual and group gear choices that are appropriate for a planned bike packing trip.
Activity: Gear shakedown – Gear identity and usefulness
Setting up & packing a bike
Objective: Safety and setup consideration, accessibility, balanced, compressed, dry and everything inside
Activity: Student-athletes can pack their bike with all their gear for bike packing. The bike is safe, well-balanced, and manageable by the student-athlete.
Riding a loaded bike
Activity: Test set-ups, refresh & what it's like to ride loaded
Activity: Ride same obstacle course laden
Orienteering – Map & Compass
Objective: Learn out to read a map and use a compass
Activity: Terrain association, how to read a bearing, how to take a bearing and triangulation
What is Bikepacking?
Bikepacking is a multi day outdoor activity that combines the excitement of riding a mountain bike, exploring places less traveled, route finding, problem solving and camping.
Often this will include riding on singletrack trails, gravel and/or abandoned dirt roads with bags attached to your bike frame, saddle and handlebars.
Bikepacking gives you the range of a mountain bike and the support to carry camping gear so riders will be able to enjoy long rides through epic landscapes and terrain all while instilling resilience, forming comradery and gaining self-confidence.
Bikepacking gives riders the opportunity to be outside on their bikes in a non-competitive environment. Riders will learn backcountry skills (including how to use a map / compass and how to treat water to make it safe to drink), principles of "Leave No Trace" and trail stewardship.
Why a training Basecamp Outing?
Student-Athletes who would like to participate in a bike packing adventure may not have acquired the essential experiences such as: setting up a shelter, sleeping outdoors, preparing their own meals and packing gear onto a bike and then riding it.
This basecamp outing will provide the student-athlete with a chance to learn these skills in an outdoor environment that is safe and close to home. It will also provide coaches a chance to revisit their backcountry skills and to help facilitate training to student- athletes from all teams in the conference.